On-chain data June 19: A record amount of BTC has been transferd to the exchange. Has BTC bottomed yet?
Welcome to Barmy's on-chain analytics.
General Information
Recently BTC has had a strong sell-off that has dropped from the range of $29,000 – $30,000 to the range of $20,000 – $22,000. Today, Bitcoin continues to drop to below $18,000 and now it has been traded at around $18,500.
This comes amid a flurry of recent bad news. Typical examples include the risk of Celsius "defaulting", the liquidation of 3AC funds, and the increase in interest rates by Fed.
Source: TradingView
Besides, the Fear & Greed index has dropped to 6. This shows that the market is in "Extreme Fear".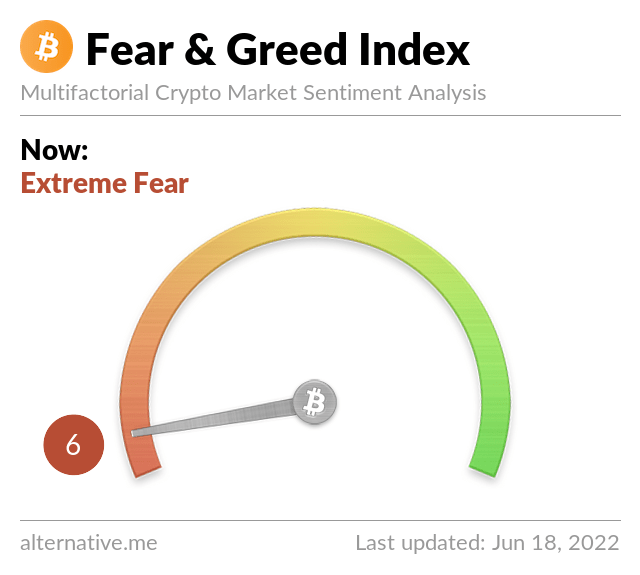 Source: Bitcoin Fear & Greed Index
On-chain data shows a record amount of BTC transferred to the exchange
Specifically, the BTC Netflow index on exchanges (BTC Exchange Netflow) has been shown below:
Source: CryptoQuant
Source: CryptoQuant
This indicator measures the difference between the amount of BTC pushed in and out of the exchange. If it is positive, it also means that investors are pushing BTC to the floor to sell and vice versa.
Thereby on June 14, 59,376 BTC have been transferred to the exchange. This is the largest positive level for 3.5 years.
According to the on-chain data, miners are not selling BTC yet
The below metric measures the amount of BTC flowing out of a miner's wallet.
Source: CryptoQuant
Thereby when Miner Outflow increases sharply, it means that miners may be selling BTC. This indicator increases. However, compared to the past, it has not increased too strongly.
Specifically, on June 16, there were 5,938 BTC withdrawn from the miners' wallets. This number is still lower than the amount of BTC on April 1 of 8,805 BTC.
Source: CryptoQuant
Besides, the Miner Reserve index (the number of reserves in the miner's wallet) has not decreased sharply, even increased gradually. This suggests that miners may have started selling BTC but in small volumes and a sell-off has yet to take place.
Has BTC bottomed yet?
Several on-chain indicators suggest that BTC may have entered a buying zone.
Specifically one of them is NVT Golden Cross. This indicator is specialized for identifying short-term tops and bottoms of BTC.
Source: CryptoQuant
This indicator approaches the green zone. From the past, BTC is likely to recover in the short term when this happens.
Another metric you can consider is the Price-to-network ratio. This index compares BTC price with network value.
According to Metcalfe's law, the BTC network value is calculated by the square of the number of BTC addresses.
Thereby this ratio is similar to the P/E or P/S in the securities segment.
This index has now hit the support as the peak during the 2017-2018 bull run. This means that BTC has reached a good buy zone.
Source: Fidelity
Conclusion
Looking at the above on-chain indicators shows the "panic" of the market as a record large amount of BTC was pushed onto the exchange.
However, looking at the indicators of miners, it can be seen that they have not sold off BTC.
Also, some on-chain data shows that BTC has reached a buy zone and possibly bottomed out.
All information above is NOT financial advice. Please do your own research.
——————————————————————-
Follow us:
Twitter | Telegram channel | Website | Youtube | Community | Barmy Trading | Barmy Signal